About Pradhaan Overseas
We, M/s Pradhaan Overseas, are committed to manufacture one of the finest quality home textiles that will have perfect place on the Dining Room / Bed Room / Bath Room / Kitchen and that will add style / comfort to the home. We are for creating the right products for the right market places. We listen to our customers and their consumers, and strive to satisfy their needs.
We do manufacture Terry based towels. Beach towels, Kitchen Towels, Napkins, Table Cloths, Cushion Covers, Curtains, Bed Covers, Pillow Cases, Euro Shams. Our products are for the Home, Hotels and Restaurants. Once the customer feels the quality of our products, we are sure that they would come back to have the same brand / label of products procured from us. We also make sure to get patterns and designs of stripes, checks, textured weaves as per clients' design requirements as well.
For Catalogue Stores / Retailers
We also undertake specialised production of smaller quantities with possible production minimums with different colour ways colour / co-ordinates to meet the colour theme oriented product group of catalogue presentation.
Knowing the selling patterns of the Catalogue Boutique Stores, Retailers, our vendor plans with the loom planning to maintain repeat order deliveries as quick as possible with suitable backing of dyed yarns in-house on the patterns which are presented on the catalogue of the season.
With the possibility to plan the full range of products in one place for the catalogue like Table, Kitchen, Living, Bedding, etc, also with use of Cotton, Cotton / Linen, Linen materials and techniques of Yarn Dyed Woven, Printed, Embroidery etc., one can finalise their Purchase / Planning for the season at one place. This gives clear opportunity to our vendor to dye the complete programme yarns in proper planned dyeing lots to maintain colour uniformity between Products / Co-ordinates and packaging of same as required.
We are proud to share with you that our products are best suited to the needs of end customers and fulfilling their expectation at the right prices.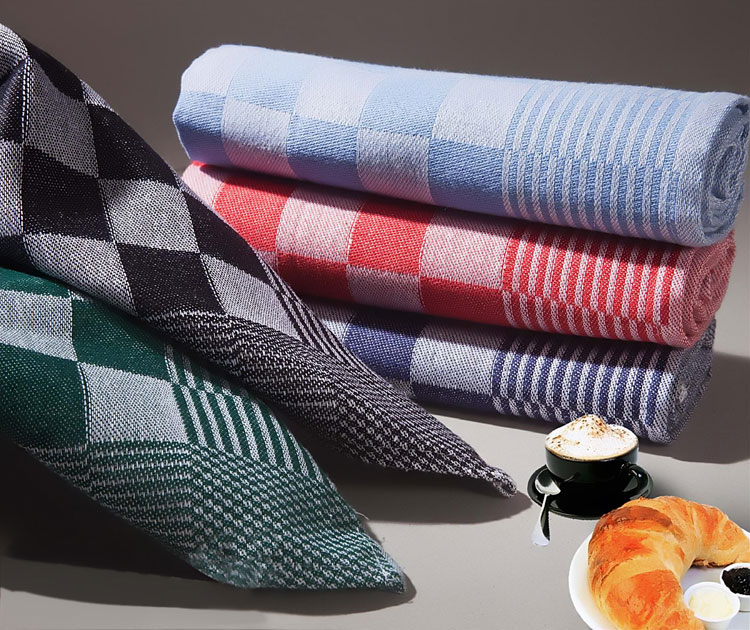 Techniques
Solid Dyed, Yarn Dyed, Jacquard Patterns Printed, Rotary Machine Printed Embroidery, Computer Embroidery and Stone Work, Accessories Trimmings, Lace Attachments embellishment to add value addition to make the product richer.
Multitudes of colours and patterns are always explored so that all opportunities are considered. Our Products / Designs look at ever developing trends that are on the rise, and recognize the demands of all segments of the market place. We understand the value of successful and timeless designs, as well as first to market opportunities. With valuable information like that, our customers enjoy the confidence that leads to making smart business.